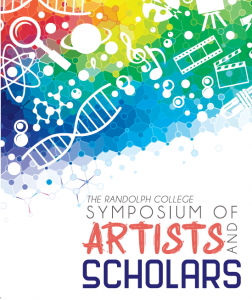 The Randolph College Symposium of Artists and Scholars opens on Thursday, April 29 with a keynote talk from Professor Pamela Risenhoover about creativity, the liberal arts, and the pandemic. On Friday, April 30, we will have talks, posters, and exhibits presented by students across campus. The Symposium is a celebration of student excellence, showing off your research and creative endeavors including internships, study abroad experiences, summer research, class projects, independent research, and senior capstone and honors projects,
The Symposium will  occur virtually and asynchronously. You will be able to access all presentations on this site starting with Professor Risenhoover's keynote on Thursday starting at 11 am, and the student talks starting on Friday at 11 am. We hope that you will take some time on Thursday and Friday to "attend" some talks and offer some feedback. Each talk will have a space where you can offer feedback or ask questions. We ask that presenters consider monitoring the space and consider answering questions on Friday and over the weekend; the Center will notify people of pending questions as well.
Please visit the pages on this site (links are across the top of this page) to see the President's Welcome, and the SAS 2021 Abstract Book.
Please come back on Thursday and Friday, and over the weekend to see what our keynote, and our students and faculty have to offer! Note that the student presentations are fully searchable, and can also be narrowed down by Academic Area/Major and more under the category drop-down list on the Contributed Presentations page.
Thank you to Professor Pam Risenhoover for 37 years of incredible teaching, inspirational programs, beautiful dancing, and amazing service to our students and to the College, and for an inspirational keynote presentation. Congratulations to our many student presenters, and especially to our graduating Seniors, who are well-represented here. We wish you well in future endeavors.
We truly wish all good health and great things for the rest of this semester, and hope that your summer research and creative endeavors lead to a Symposium we can look forward to in-person next year.